Prof. Dr. V. N. Rajasekharan Pillai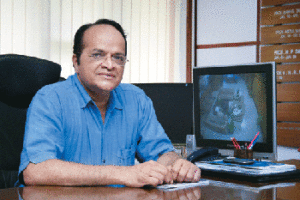 Prof. Dr. V. N. Rajasekharan Pillai, currently the Executive Vice President of Kerala State Council for Science, Technology and Environment, is an highly accomplished researcher, educationist and manager of science research  who  has been at the helm of many higher education institutions during his career spanning more than four decades. He has served as the Chairman and Vice-Chairman of the University Grants Commission. He has been the Chairman of the Distance Education Council during his tenure at the UGC. Subsequently, he assumed the Vice Chancellorship of Indira Gandhi National Open University. Earlier, he has been the Vice Chancellor of M. G. University and was in charge of Cochin University of Science and Technology as its VC. He has served NAAC, Bangalore as its Director. He started his academic and research career as a faculty at the University of Calicut, after securing Master's degree and Doctorate, under the mentorship of the late Prof. C. P. Joshua, in organic photochemistry, from the University of Kerala. He was the Founder-Director of the School of Chemical Sciences, creating there an internationally renowned research group in the area of polymers, biopolymers and peptides, the Dean of Faculty of Science; Controller of Examinations; Director of College Development Council; Founder-Director of the School of Professional Distance Education and Chief, Employment and Information Guidance Bureau of the M. G. University. Prof. Pillai has held post-doctoral and visiting research professor positions at universities at Tübingen, Mainz and Lausanne.

He has published more than 200 refereed research publications in international journal and has supervised the doctoral research of a nearly fifty candidates, who now occupy leading positions in academia, R&D, and industry in India and abroad and he is one among the top cited chemists in the country. Prof. Pillai is a Fellow of the Indian Academy of Sciences and an Honorary Senior Fellow of the Jawaharlal Nehru Centre for Advanced Scientific Research, Bangalore and is the recipient of Materials Research Society of India Lecture Award. He has served as a member of the Executive Board of the Asia-Pacific University Presidents Association representing India and as a Member of the Working Group constituted by the MHRD for the preparation of Indian Science Policy Document for UNESCO. His awards and honors include the Presidential Gold Medal of the Indian Science Congress, the Triennial National M. V. Pylee Award for the Top Academician of India, the R.R. Varma Foundation Best Teacher Award and the Indian Chemical Society Award for his life-long research achievements in the area of chemical sciences.