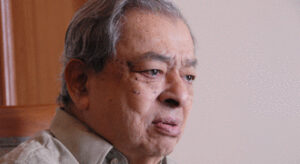 Dr. Varghese Kurien is called the "father of the white revolution" in India. He is credited with architecting Operation Flood – the largest dairy development program in the world. Verghese Kurien, set up the Anand model of cooperative dairy development, engineered the White Revolution in India, and made India the largest milk producer in the world.

Born on 26th November 1921, Dr. Kurien graduated with Physics from Loyola College, Madras in 1940 and then did B.E.(Mech) from the Madras University. After passing out of the University, he joined the Tata Steel Technical Institute, Jamshedpur from where he graduated in 1946. He then went to USA on a government scholarship to do his Master of Science in Mechanical Engineering from Michigan State University. When he came back to India, he was posted as a Dairy Engineer at the government creamery, Anand, inMay 1949. Around the same time, the infant cooperative dairy, Kaira District Cooperative Milk Producers' Union Limited (KDCMPUL), – now famous as AMUL – was fighting a battle with the Polson Dairy which was privately owned. Young Kurien, fed up with being at the government creamery which held no challenge, volunteered to help Shri Tribhuvandas Patel, the Chairman of KDCMPUL, to set up a processing plant. This marked the birth of AMUL and the rest is history.

Dr. Kurien has since then built this organization into one of the largest and most successful institutions in India. The Amul pattern of cooperatives had been so successful that Dr. Kurien setup NDDB (National Dairy Development Board) to replicate it across India. He also set up GCMMF (Gujarat Cooperative Milk Marketing Federation) in 1973 to sell the products produced by the dairies. Today GCMMF sells AMUL brand products not only in India but also overseas.

For his contribution to the dairy industry Dr. Kurien has received top awards not only in India but also overseas. Some of which include Krishi Ratna Award (1986) by the President of India, Ramon Magsaysay Award for Community Leadership (1963), Wateler Peace Prize Award of Carnegie Foundation (1986), World Food Prize Award (1989), International Person of the Year(1993) by the World Dairy Expo, Madison, Wisconsin, USA, Padma Shri (1965), Padma Bhushan (1966), and Padma Vibhushan (1999).