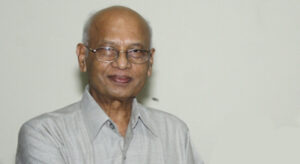 Dr. M. S. Valiathan has pioneered biomedical research in this country and is credited with the development of artificial heart valves, blood bags, oxygenerators, vascular grafts etc.

Dr. M. S. Valiathan received his M.B.B.S. degree from Kerala University in 1956 and F.R.C.S. from Royal College of Surgeons Edinburgh in 1960. He received Cardiac Surgical training in the John Hopkins and Georgetown University hospitals, U.S. and served as Professor of Cardiac Surgery at the Sree Chitra Tirunal Institute of Medical Sciences and Technology for 20 years. He led a group which developed a tilting disc heart valve and other cardiovascular devices which are commercially produced.

His professional contributions are recognized by election to many academies in India and abroad and by the award of the Hunterian Professorship of the Royal College of Surgeons of England. He has published several outstanding research papers on endomyocardial fibrosis Cardiac Surgery, Bio Materials & Artificial Internal Organs, Health & Health Policy. He has undertaken the monumental work bringing out the foundational text of Indian Medicine in Sanskrit – Charaka Samhita. Dr. Valiathan has also received many national & international honours including the prestigious "Padma Bhushan".