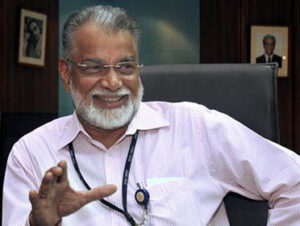 Dr. K. Radhakrishnan is the present Chairman of Indian Space Research Organisation. He has been honored with Padma Bhushan for his contribution to India's space efforts. He had distinguished himself with a stellar career, spanning  43 years in technology of space and space programme management. He is the Chairman, Space Commission, the Secretary, Department of Space and Chairman of the board of management, Indian Institute of Space Science and Technology. He has earlier served as the Director of Vikram Sarabhai Space Centre. He started his career at the Indian Space Research Organisation in 1971 and has played key roles in Chandrayaan-1 moon mission and the current Mangalyaan Mars mission. He has been the Director, Regional Remote Sensing Service Centres, National Mission Director, Integrated Mission for sustainable Development,  Deputy Director of the National Remote Sensing Agency, Project Director of Early Warning System for Tsunami and Storm Surges, Vice Chairman  of Intergovernmental Oceanographic Commission of UNESCO, Founding Chairman of Indian Ocean Global Ocean Observing System, Regional Coordinator of Indian Ocean for the International Argo Project, Director of National Remote Sensing Agency and a Member of the Indian delegation to the United Nations Committee on the Peaceful Use of Outer Space. He had graduated in Electrical Engineering from University of Kerala, and obtained PGDM from IIM Bangalore followed by Doctorate from IIT Kharagpur.

His award and honors include Distinguished Alumnus Award of IIT Kharagpur, Vikram Sarabhai Memorial Award of Indian Science Congress, Athivishishta Rajakeeya Puraskaram – Sastra Ratna by the Pazhassiraja Charitable Trust, Dr. Y. Nayudamma Memorial Gold Medal of Andhra Pradesh Academy of Sciences, BHASKARA Award by Indian Society of Remote Sensing, Silver Jubilee Honour by Ministry of Earth Sciences, VASVIK Industrial Research Award, K. R. Ramanathan Memorial Gold Medal by Indian Geophysical union, Prof. Satish Dhawan Memorial Lecture Award of Aeronautical Society of India, Subroto Mukherjee Memorial Oration of Indian Aerospace Society, K.R. Ramanathan Memorial Gold Medal of Indian Geophysical Union, Honorary Doctorates by Sri Venkateswara University, Rajasthan Technical University, GITAM University, Tumkur University, SRM University and  KIIT University. He is a Fellow of Indian National Academy of Engineering,  Honorary Life Fellow of The Institution of Engineers, India, Honorary Fellow of The Institution of Electrical and Telecommunication Engineers, India, Member of International Academy of Astronautics, Fellow of Andhra Pradesh Academy of Sciences, Fellow of Indian Society of Remote Sensing; Fellow of Indian Geophysical Union.

He has served as the President of Indian Society of Remote Sensing, the Vice President of Indian Geophysical Union and the President of Astronautical Society of India. He is a life fellow of the Indian Geophysical Union and is also an accomplished carnatic musician  and Kathakali artist.