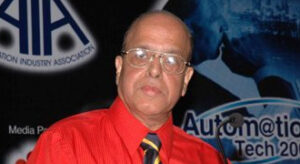 Dr. Krishnaswamy Kasturirangan is presently Honorable Member of Parliament (Rajya Sabha). Dr. Kasturirangan has steered the Indian space programme gloriously for over 9 years as chairman of the Indian Space Research Organisation, of Space Commission and Secretary to the Government of India in the Department of Space, before laying down his office on August 27, 2003

Dr.Kasturirangan took his Bachelor of Science with Honours and Master of Science degrees in Physics from Bombay University and received his Doctorate Degree in Experimental High Energy Astronomy in 1971 working at the Physical Research Laboratory, Ahmedabad. He was the project director for India's first two experimental earth observation satellites, BHASKARA-I & II and subsequently was responsible for overall direction of the first operational Indian Remote Sensing Satellite, IRS-1A. Later he became the Director of ISRO Satellite Centre, where he oversaw the activities related to the development of new generation spacecraft, Indian National Satellite (INSAT-2) and Indian Remote Sensing Satellites (IRS-1A & 1B) as well as scientific satellites.

As an Astrophysicist, Dr. Kasturirangan's interest includes research in high energy X-ray and gamma ray astronomy as well as optical astronomy. He has made extensive and significant contributions to studies of Cosmic x-ray sources, celestial gamma-ray and effect of cosmic x-rays in the lower atmosphere.

Dr. Kasturirangan is a member of several important scientific academies, both within India and abroad. He is presently the President of the Indian Academy of Sciences at Bangalore and General President of the Indian Science Congress. He is a Fellow of the Indian Academy of Sciences, Indian National Science Academy, National Academy of Sciences of India, Indian National Academy of Engineering, Astronautical Society of India, National Telematics Forum, The Indian Meteorological Society and The Third World Academy of Sciences. He is a Distinguished Fellow of the Institution of Electronics and Telecommunications Engineers, Founder Member of the Astronomical Society of India, Life Member of the Indian Physics Association, Indian Science Congress Association and Indian Society of Remote Sensing and Honorary Fellow of the Aeronautical Society of India. He is also a Member of the International Astronomical Union and the International Academy of Astronautics. He has won several awards including Shanti Swarup Bhatnagar Award in Engineering, Shri Hari Om Ashram Dr.Vikram Sarabhai Prerit Award in Aerospace, M.P. Birla Memorial Award in Astronomy, Shri M.M. Chugani Memorial Award in Applied Science, H.K. Firodia Award in Science Technology, Rathindra Puraskar by Visvabharati, Santiniketan, Dr. M.N. Saha Birth Centenary Medal for outstanding contributions in the field of Space. He has been conferred Padma Shri, Padma Bhushan and Padma Vibhushan. He has published more than 200 papers, both in international and national journals in the areas of astronomy, space science, space applications and has edited 6 books.