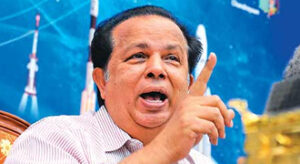 Sri G Madhavan Nair, a leading technologist in the field of space research, is the present chairman of Indian Space Research Organisation and secretary, Department of Space, Government of India. He is also the chairman of Space Commission since September 01, 2003.

Sri Madhavan Nair graduated in engineering from the Kerala University in 1966 and joined Thumba Equatorial Rocket Launching Station (TERLS) in 1967. He was closely associated with the development of the first Indian Satellite Launch Vehicle – SLV-3. Later, as Project Director, he led the development of India's first operational launch vehicle, the Polar Satellite Launch Vehicle (PSLV). He was the Director of Liquid Propulsion Systems Centre during 1995-99 and from 1999 till he took over the present position, he served as the Director of Vikram Sarabhai Space Center (VSSC), Thiruvananthapuram.

He led the Indian Delegations in the bilateral cooperation negotiations with many Space agencies and Countries, especially with USA, Russia, Brazil, and had been instrumental in working out mutually beneficial international cooperation agreements.

He is the Chairman of the Governing Board of the UN Centre for Space Science and Technology Education in Asia and the Pacific (CSSTE-AP) and Chairman of the Programme Council of Astronautical Society of India. He is a Fellow of the Indian National Academy of Engineering. Among the prominent awards that Sri Madhavan Nair has received include Om Prakash Bhasin Award; Swadeshi Sastra Puraskar Award; FIE Foundation Award and Vikram Sarabhai Memorial Gold Medal of the Indian Science Congress. He has received Doctor of Philosophy (Honoris Causa) from the Punjab Technical University and Sri Venkateswara University (AP). Government of India conferred the highly coveted award "Padma Bhushan" on Sri Madhavan Nair in 1998 in recognition of his services to the Country and Society.